Psychological Networks & Time Series Models
Time series and symptom networks are intuitive and promising approaches for clinical research and practice. However, as these are still very new techniques in the clinical field, there are still unresolved and fundamental issues in constructing and interpreting networks based on time series or ESM data.
In this symposium, leading international experts from methodology, clinical psychology and psychiatry will address the most urgent themes that currently hamper progress in personalized psychopathology.
The meeting is open to researchers from all relevant fields.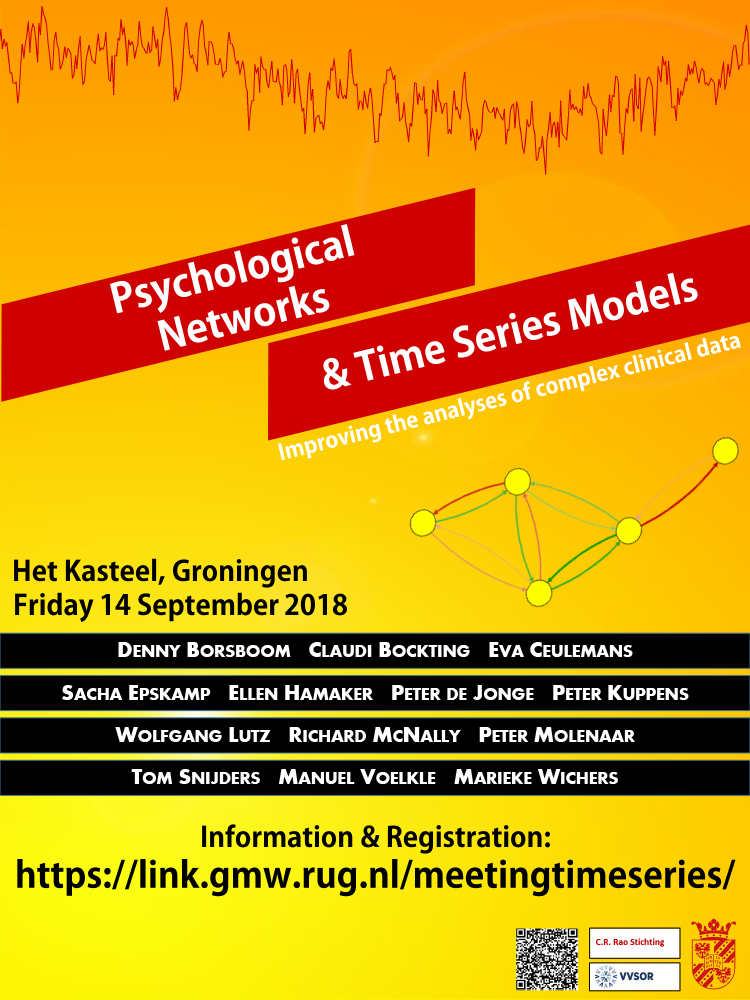 Speakers

Prof. Dr. Denny Borsboom (UvA, The Netherlands)
Prof. dr. Claudi Bockting (AMC, The Netherlands)
Prof. dr. Eva Ceulemans (KU Leuven, Belgium)
Dr. Sacha Epskamp (UvA, The Netherlands)
Prof. dr. Ellen Hamaker (Utrecht University, The Netherlands)
Prof. dr. Peter de Jonge (RUG, The Netherlands)
Prof. dr. Peter Kuppens (KU Leuven, Belgium)
Prof. dr. Wolfgang Lutz (Trier University, Germany)
Prof. dr. Richard McNally (Harvard University, United States)
Prof. dr. Peter Molenaar (PennState University, United States)
Prof. dr. Tom Snijders (RUG, The Netherlands)
Prof. dr. Manuel Voelkle (HU Berlin, Germany)
Prof. dr. Marieke Wichers (UMCG, The Netherlands)

Organized by

Laura Bringmann (University of Groningen)
Casper Albers (University of Groningen)
Pia Tio (University of Amsterdam/ Tilburg University)
Angélique Cramer (Tilburg University)

Date

14th of September 2018

Registration Fee

30 euro's

Location

Het Kasteel, Groningen

Any questions?

Please email Laura Bringmann at